FEMA Region III... What is Happening on the East Coast?... Is the Large Number of Dolphin Deaths a Warning of Imminent Disaster?
Submitted by SadInAmerica on Wed, 08/21/2013 - 1:05pm.
A chilling new report prepared for President Putin by the Ministry of Emergency Situations (EMERCOM) on top-secret NSA intelligence documents obtained by the Federal Security Services (FSB) from whistleblower Edward Snowden reveals... ~ Video
...the US Federal officials in the area of the United States designated as FEMA Region III [Washington D.C., Delaware, Maryland, Pennsylvania, Virginia, West Virginia] are "quietly preparing" for what these documents state is an "imminent catastrophic threat".
This is related to a previously unknown fault zone many scientific experts fear could see this area being destroyed by volcanic, earthquake and massive tsunamis as early as this coming October.
According to this EMERCOM report, US officials became alarmed when on 23 August 2011 a massive 5.8 magnitude earthquake centered in Virginia shook the entire US East Coast and was described as the largest quake of its kind to strike east of the Mississippi River in all of recorded American history.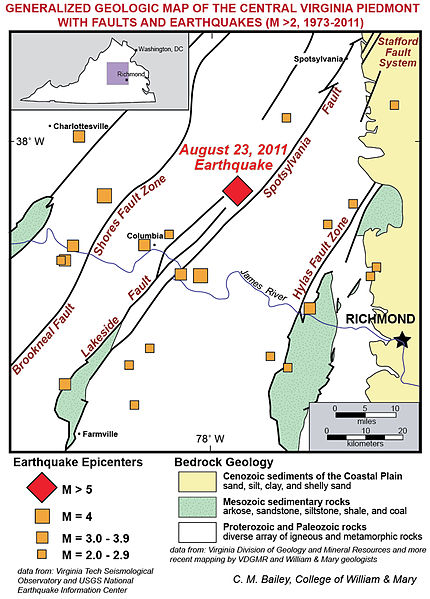 A report prepared by the United States Geological Survey (USGS) on the 23 August 2011 Virginia earthquake was partially released this past November (2012).
EMERCOM says, with a warning that the Eastern coastal regions of the United States were, indeed, facing a threat of major tsunamis, but the documents provided by Snowden reveal a much grimmer picture of what could possibly be about to occur.
The much expanded, and designated top-secret, USGS report contained in Snowden's documents, EMERCOM states, shows that the 23 August 2011 Virginia earthquake shattered a previously unknown fault zone extending from Richmond Virginia outwards into the Atlantic Ocean region and stretching upwards into the Chesapeake Bay area which is the largest estuary in the United States.
Even worse, this EMERCOM says about this top-secret USGS report, is that American scientists are now blaming the devastation occurring in the Chesapeake Bay (which has seen 200,000 acres of oyster reefs reduced to about 36,000 in the past nearly 15 years).
"Explosive volcanic out gassing" is rapidly growing in this undersea area; a situation when combined with the still ongoing catastrophe in the Gulf of Mexico caused the United States this past week to declare its first "fishery disaster" in modern times.
This EMERCOM report further states that USGS scientists are, likewise, blaming the explosion of dolphin deaths this year in US eastern coastal regions on this volcanic out-gassing too,
According to the US National Oceanic and Atmospheric Administration (NOAA), in Virginia alone, there were 45 dolphin deaths in July, compared to a historic average of only seven for July.
Most concerning to USGS scientists in their top-secret report, EMERCOM experts say, is the new evidence revealed this past June (2013) by the Journal Science proving the reality of what have been called "earthquake booms".
These booms have long been associated with seismic activity, and as we can, in part, read from their article titled "Boom! Super Seismo-Sonic Earthquakes Are Real":
"The inner workings of bizarre and potentially dangerous earthquakes that break the seismic sound barrier have now for the first time been confirmed in laboratory experiments with real rocks, report scientists in today's issue of the journal Science."
Most ominous in the USGS's concerns about "earthquake booms," this EMERCOM report says, are the increasing number of them being heard in the Richmond, Virginia area these past few months, which was near the epicenter of the 23 August 2011 earthquake and may be heralding a new series of seismic events are about to occur, American scientists fear.
As to the preparations being made by the Obama regime should the worst fears of the USGS be realized, this EMERCOM report says, can be gleaned from a recent email sent out by former South Dakota Senator Sheldon R. Songstad to his friends and family that was leaked to the American public and which details steps now being taken for FEMA Region III:
The preparations listed include;
Nine-week training course for UN Peacekeepers in CONUS to learn Urban Warfare, English, and US weapons systems beginning 4th week of July for 386,000 troops to be completed by October 1st;
$11 million in antibiotics to be delivered to FEMA region III by October 1st ordered by CDC;
FEMA purchase orders for over $14.2 million for MREs and heater meals to be delivered to Region III by October 1st;
FEMA purchase orders for 22 million pouches of emergency water to be delivered to region III by October 1st;
FEMA purchase orders for $13.6 million for MREs and heater meals to be delivered to Austin by October 1st;
2800 MRAPs must be delivered to DHS by October 1st
Whether the American public living in this now feared FEMA Region III area will be warned by the Obama regime of the dangers they are facing remains highly unlikely.
When viewed in the light of Australia's 60 Minutes News Programme this past week [watch video HERE] detailing how the these people were lied to and deceived by their own government over the massive poisoning of the Gulf of Mexico by BP after the 2010 Deep Water Horizon Disaster.
August 21, 2013 - posted at EuropeanUnionTimes
Tag this page!
Submitted by
SadInAmerica
on Wed, 08/21/2013 - 1:05pm.
93678 reads