Very Strange... The White House Schedule is Empty... Why?
Submitted by SadInAmerica on Thu, 10/04/2012 - 3:08am.
Something weird is definitely happening on the White House schedule. Obama's schedule is completely empty after tonight's debate. Nothing, not one thing after that... ~ screen shots
Of course, the President and Vice-President will be out campaigning for the November 6th election, but there must be at least a few meetings necessary to run the business of the country.
When is the last time the President's schedule was completely empty?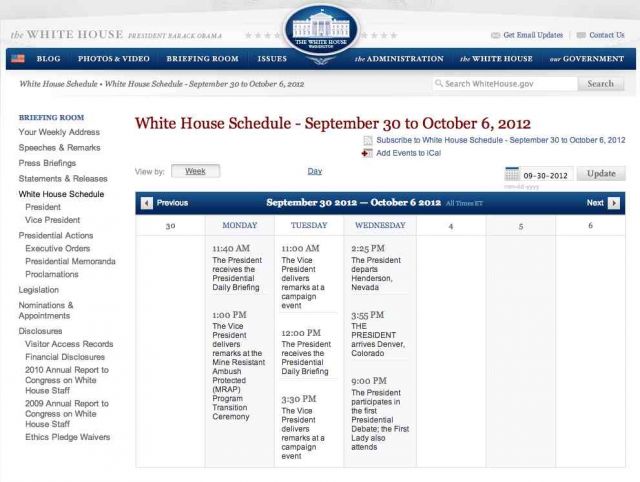 These are a few of the items that were present in past weeks and months, so you get an idea of what a normal schedule looks like:
Press briefings by Jay Carney
Presidential Daily Briefings
Ambassador Credentialing Ceremonies
Departures to Andrews Air Force Base for travel
Remarks to a campaign event or conference
Attending conventions, i.e. VFW, etc.
Meet with the Secretary of State, Sec. of Defense, Treasury, etc.
Honoring sports stars at the WH
Here's a sample of the prior week, September 23-29th, 2012: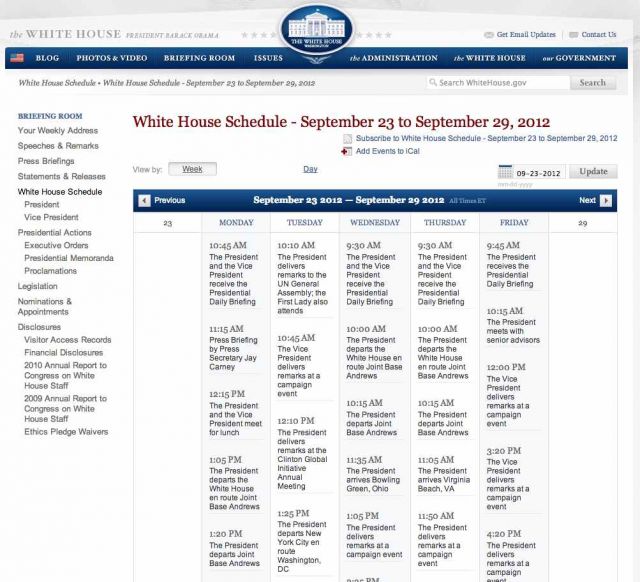 But here's what the future shows: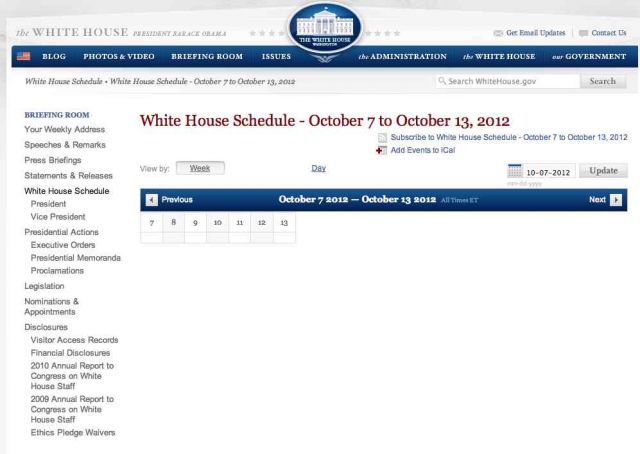 And the same thing is true for the Vice President: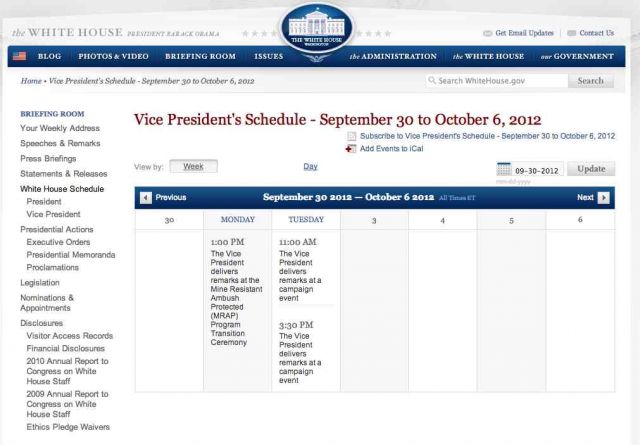 This is very strange, we'll reach out to the White House for comment. Maybe someone forgot to update the calendars…
Remember, there is no legal obligation for a president to make their schedule public. However, it would seem odd for "the most transparent and ethical White House" to make this kind of omission.
Chris Kitze - October 3, 2012 - posted at BeforeIt'sNews
Tag this page!
Submitted by
SadInAmerica
on Thu, 10/04/2012 - 3:08am.
1516 reads