"Why I Will NEVER Vote for Michelle Bachmann"... Devvy Kidd
Submitted by SadInAmerica on Sun, 08/14/2011 - 2:06pm.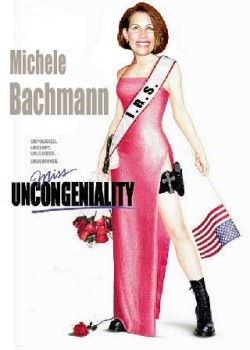 Bachmann, a former Democrat who worked to get Jimmy Carter elected, was a hired gun for the IRS as a DOJ attorney prosecuting Americans. She trumpets we need "simplification of the tax code". More meaningless drivel... - PDF
No where does she take on abolishing the privately owned "Federal" Reserve and it's feeding artery, the IRS.
It's apparent she knows next to nothing about our monetary system and the catastrophic mess building to a crescendo.
Read full article by Devvy Kidd - PDF
Ernest Hancock - August 14, 2011 - posted at Freedom'sPhoenix
Tag this page!
Submitted by
SadInAmerica
on Sun, 08/14/2011 - 2:06pm.
2050 reads