ABORTION COUPONS!!!... Murder Your Baby Sale!... $50.00 Off!... Limited Time Offer!... Sundays Only
Submitted by SadInAmerica on Tue, 11/08/2011 - 7:40pm.
Recently a butcher shop abortion center in Orlando, Florida has advertised not only services of murdering infants, but now is offering a coupon so that you can have your infant child murdered at a discount price!
On Monday, LifeNews reported that a coupon, promising discount Sunday abortions for a "limited" time only, was issued by the Orlando Women's Center - as if they were advertising a "fire sale."
Look for yourself, below is a copy of this coupon:

I can only think that hell itself would condone this type of mentally sick ideology: murder a child like you are going to buy a new pair of shoes.
Being that the moral code of this nation is based on Common Law (7th amendment), and Common Law derives its authority from the Ten Commandments and Hebrew Mosaic institution, I will quote a Hebrew King to give validity to my above statement.
"The wicked shall be turned into hell, and all the nations that forget God." - Psalm 19:7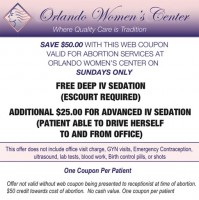 Where are our loving, tolerant, open-minded, animal-protecting, environment-policing, free housing/education/healthcare-giving liberals?
I will tell you where - they are printing abortion coupons out on recycled paper, and driving young women to murder their children in battery operated cars! Most conservatives are happy to sell them the paper and car, and rent out the clinic space.
This is moral depravity on the level of a conscienceless animal. Remember America, "An injustice done anywhere is a threat to justice everywhere." - Martin Luther King
If left unopposed, do not think this will not stop at babies in the womb, nor the defenseless elderly. How in the world can this be, America? Make your voice heard! Take one more look before you decide that you can ignore morality, because immorality is not being ignored.
Jake McMillian - November 8, 2011 - GCNLive
Tag this page!
Submitted by
SadInAmerica
on Tue, 11/08/2011 - 7:40pm.
2431 reads