Obama Must Plan for Life Without War Man Bob Gates
Submitted by SadInAmerica on Sun, 04/10/2011 - 6:48pm.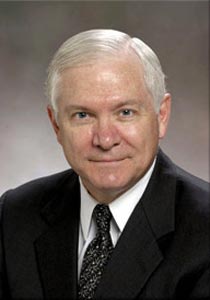 You may not believe it, amid the partisan warfare that brought Washington to the brink of a government shutdown last week, but there is one Republican on whom Barack Obama can count 100 per cent. The trouble is, he almost certainly won't be around much longer. ~ Rupert Cornwell
"Bob Gates has proven to be a miserable failure at retirement," his press secretary at the Pentagon joked, when America's 22nd Secretary of Defense first indicated last autumn that he would step down sometime in 2011. But Gates - who over his long career has more than once vowed to quit government for good, only to return - this time seems to mean it.
These last few days he's been in the Middle East on what has felt like a farewell lap of honour. In Iraq he told the troops that it was "probably my last visit". Given that these visits tend to be quarterly, we may assume he will be gone by summer. And for this president, it will be his biggest personnel loss yet.
Secretary of State may be the senior cabinet post in the US, but in an age when American power depends more than ever on military might, the one that matters most belongs to the man at the Pentagon. He operates a budget equivalent to a third of Britain's entire GDP, and runs a command structure covering every corner of the globe, with a firepower to match. Few Defense Secretaries, however, will leave a legacy to match Gates's.
Iraq will, of course, above all else define his place in history. In November 2006, when George W Bush summoned Gates back to the colours to succeed the hugely unpopular Donald Rumsfeld, the war was all but lost. But the troop surge that Gates supported paid off. Iraq may not be a triumph, but it is no longer a disaster. Iraq, though, is only the start of it.
Gates will surely go down as the man who finally hauled the Pentagon out of the Cold War into the modern era, when warfare is asymmetrical, when conflicts tend to be within states, not between states, and when minorities of every description are welcome in America's armed forces.
Rumsfeld huffed and puffed, but did little to wean the military off its addiction to unneeded, but ever more expensive, hi-tech weaponry. It was Gates who realised that whatever America's veneration of its armed forces, they could no longer be exempt from government spending cuts.
Gone therefore, among other things, are a $15bn (£9.2bn) amphibious assault vehicle for the Marines and the unneeded second engine for the F-35 Joint Strike Fighter. Under Gates, production was halted on the F-22 stealth fighter, while dozens of other programmes have been trimmed, in an effort to find $100bn of savings over the next five years.
Gates has also taken an axe to the Pentagon's swollen bureaucracy, by closing a major command centre in Virginia and announcing plans to cut the use of contractors and to eliminate 50 generals and admirals by 2012.
In part these are pre-emptive strikes, to ward off even greater cuts imposed by Congress. But they also carry a deeper message, that America's power is not infinite, that it cannot forever be the world's policeman. This, after all, was a Secretary of Defense who long doubted the merits of US intervention in Libya, and who warned publicly that any successor who wanted to send a land army into Asia, the Middle East or Africa "should have his head examined."
And it was on Gates's watch that the final barrier of segregation fell in the armed forces, with the repeal of the "Don't Ask, Don't Tell" legislation banning gays and lesbians from serving openly in the military. In the end, Gates concluded, the measure would make little difference.
The judgement was typical of the man. Where Rumsfeld was bullying and confrontational, Gates is cool, measured and unflappable. His anger is quiet, and all the more effective for that. During his tenure, Rumsfeld was first lionised, then loathed. Gates, by contrast, has consistently inspired one thing above all else: respect.
As such he has been priceless cover for Obama. During his decades at the National Security Council and the CIA (he was the only entry-level spook to become director), Gates has worked for Democratic as well as Republican administrations. But he made his name under the Bushes, father and son. By persuading Gates to stay on in 2009, Obama pulled off his biggest coup, immunising himself against the traditional Republican complaint that Democrats were weak on national security. Thus when Obama decided on a surge in Afghanistan as well, Gates's support provided vital credibility.
Soon, however - barring a quite unexpected change of heart - that support will be gone. The timing of his going makes perfect sense. He has already spent four-and-a-half years at the Pentagon; if Gates leaves this summer, Obama will avoid the risk of bloody confirmation hearings for a successor in the heat of his re-election campaign.
In fact, the President's national security team is about to be almost entirely remade. The four-year term of Mike Mullen as chairman of the Joint Chiefs of Staff, the top uniformed officer in the US military, is up in the autumn, while General David Petraeus, executor of the Iraq surge, is expected to leave the key Afghanistan command by the end of the year.
Over at the State Department, it's a similar story. Diplomatic powerhouse Richard Holbrooke is dead, while Jim Steinberg, the deputy secretary of state, is about to step down. Hillary Clinton, too, must be taken at her word when she vows to leave the administration - and politics - at the end of President Obama's first term. But no loss will be as great as Gates.
Various successors have been mooted, among them Ray Mabus, the current Navy Secretary, John Hamre, who was a deputy defence secretary under Bill Clinton, and Leon Panetta, Obama's CIA director. Fine men all. But none with quite the stature and authority of Bob Gates.
Rupert Cornwell - April 10, 2011 - IndependentUK
Tag this page!
Submitted by
SadInAmerica
on Sun, 04/10/2011 - 6:48pm.
1577 reads