Israeli Forces Intercept and Board Second Gaza Bound Humanitarian Aid Ship the Rachel Corrie
Submitted by SadInAmerica on Sun, 06/06/2010 - 10:40am.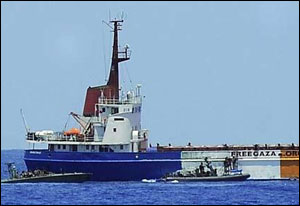 The takeover stood in marked contrast to a violent confrontation at sea earlier this week when Israeli commandos blocked a Turkish aid vessel trying to break the blockade. ~ Video
Israeli Prime Minister Benjamin Netanyahu said his country's forces took control of the Gaza-bound aid ship Rachel Corrie without resistance.
The military said its forces boarded the 1,200-ton Rachel Corrie cargo ship from the sea, not helicopters.
On Monday, Israeli commandos abseiled onto the deck from helicopters and a clash with passengers left nine pro-Palestinian activists dead.
Israeli Prime Minister Benjamin Netanyahu issued a statement saying: "Forces used the same procedures for Monday's flotilla and Saturday's sailing but was met by a different response.
"On today's ship and in five of the six vessels in the previous flotilla, (their boarding) procedure ended without casualties. The only difference was with one ship where extremist Islamic activists, supporters of terrorism, waited for our troops on the deck with axes and knives."
Army spokeswoman Lt Col. Avital Leibovich said Saturday's takeover took only a few minutes and that the vessel was being taken to Israel's Ashdod port.
Israel said that the Irish-owned aid ship was warned not to approach Gaza.
The Rachel Corrie, which is carrying a small group of activists including a Nobel laureate, was trying to deliver aid as well as breach a three-year-old blockade that has plunged the territory's 1.5 million residents deeper into poverty.
But it has stood by the blockade, which it says is needed to prevent the Islamic militant group Hamas from getting weapons.
"Israel will continue to exercise its right to self defence. We will not allow the establishment of an Iranian port in Gaza," Netanyahu's statement added.
June 5, 2010 - posted at TelegraphUK
Tag this page!
Submitted by SadInAmerica on Sun, 06/06/2010 - 10:40am.