Anti Gun Eric Holder... After 2008 Supreme Court Ruling Gun Control Options Have Been 'Narrowed'
Submitted by SadInAmerica on Fri, 01/16/2009 - 5:18pm.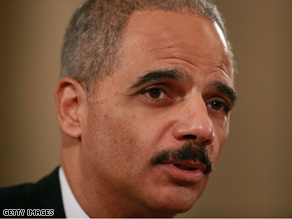 Attorney General-designate Eric Holder conceded during his confirmation hearing Thursday that the government's options for regulating the possession of firearms have been narrowed in the wake of the Supreme Court's 2008 ruling that the Second Amendment ensures an individual right to bear arms.
"Reasonable restrictions are still possible," Holder said, including measures such as a ban on the sale of what are called "cop-killer" bullets.
But, he granted, "we're living in a different world" since the high court's 5-4 ruling in District of Columbia v. Heller.
Holder said that he previously viewed the Second Amendment as a "collective right" to bear arms, not an individual right.
The Heller ruling, Holder said, was a "very significant opinion."
January 15, 2009 - source CNN
Tag this page!
Submitted by
SadInAmerica
on Fri, 01/16/2009 - 5:18pm.
1292 reads