Why is Bush Using Federal Funds to Install a Gate at New Dallas Home???
Submitted by SadInAmerica on Tue, 01/06/2009 - 10:02pm.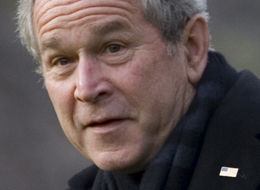 The Dallas Morning News reports that President Bush is planning to install a gate limiting public access to his house -- on a public street. Federal money would be used to pay for the gate!
Just like his father, President George W. Bush will return to Texas when he leaves office.


And just like his father, he wants a gate to be installed along a public street to limit access to his neighborhood.

Dallas City Manager Mary Suhm confirmed Monday that the younger Bush is seeking to have a gate placed somewhere along the entrance to streets leading to his future Preston Hollow address.
Bush's new community has a history of controversial exclusivity. Raw Story reported that the neighborhood of Preston Hollow did not allow non-white residents until 2000.
When Bush announced that he was moving to Preston Hollow, one of his new neighbors said she was "afraid ... the whole neighborhood is going to be a target."
The Hill reported Tuesday that Bush and his family had begun packing their belongings for the move out of the White House.
Rachel Weiner - January 6, 2009 - source Via ThinkProgress
Tag this page!
Submitted by
SadInAmerica
on Tue, 01/06/2009 - 10:02pm.
1452 reads