Tim Russert of 'Meet the Press' Dies Today
Submitted by SadInAmerica on Fri, 06/13/2008 - 4:11pm.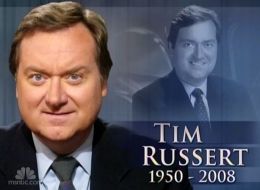 Tim Russert has passed away at the age of 58 on June 13, 2008.
Read all about his life and career.
Tim Russert was born in Buffalo, New York in 1950. He joined NBC News in 1984. He became the host of the popular and influential show "Meet the Press" in 1991. He is the author two books, "Big Russ and Me" (2004) and "Wisdom of Our Father" (2006). He addition to hosting "Meet the Press", he is also a political analyst for "NBC Nightly News" and the "TODAY" show. He also anchors the weekly program the "The Tim Russert Show." In 2008 Time Magazine named him one of the 100 most influential people in their world.
He is survived by his wife Maureen Orth, and their son Luke.
 Huffington Post - June 13, 2008 - http://www.huffingtonpost.com/2008/06/13/tim-russert-dead-at-58_n_107035.html
*****
More on this breaking story as it becomes available.

Tag this page!
Submitted by
SadInAmerica
on Fri, 06/13/2008 - 4:11pm.
1361 reads