Hedge Fund in Talks to Buy Blackwater!
Submitted by SadInAmerica on Wed, 04/30/2008 - 2:41pm.
 Private Equity Firm Could Invest At Least $200 Million Into Controversial Security Firm.
The hedge fund giant that owns a controlling stake in Chrysler is in negotiations to buy the controversial security firm Blackwater USA, which has millions of dollars in U.S. government contracts in Iraq, according to sources familiar with the talks.
Cerberus Capital Management could invest $200 million for a stake in Blackwater, said a source close to the negotiations. Other sources said auditors from Cerberus had been examining Blackwater's books since the beginning of the year.
A source close to the negotiations says there is no deal yet, but there might be one in the future and that negotiations about a possible investment into Blackwater are ongoing.
A Cerberus spokesman said the company doesn't comment on market rumors or speculation. Blackwater did not immediately respond to a request for comment.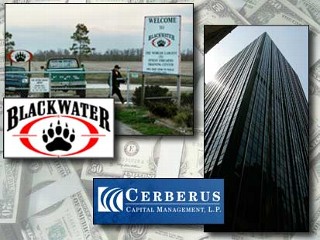 The reclusive founder of Cerberus, Stephen Feinberg, reportedly told his investors in a letter earlier this year that he hated all the attention the company was getting.
"We do our best to avoid the spotlight," wrote Feinberg, "but unfortunately, when you do some large deals, such as Chrysler and GMAC, it is hard to avoid."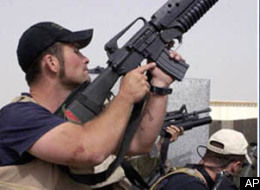 Owning control of Blackwater would certainly attract even more attention to Cerberus. Blackwater has been accused of tax fraud, improper use of force, arms trafficking and overbilling connected to its work for the U.S. government in Iraq. A grand jury, federal prosecutors and congressional investigators are all currently probing allegations against the company.
Despite the controversy, however, Blackwater was recently renewed for a $1.2 billion private security contract with the State Department. The one-year extension is worth an estimated $240 million.
The chairman of Cerberus is former Treasury Secretary John Snow, and former Vice President Dan Quayle is also a prominent figure in the company. Cerberus holds controlling or significant minority interests in companies around the world that in aggregate currently generate more than $60 billion in annual revenues, according to their Web site.
ABC News - Maddy Sauer - April 30, 2008 - posted at www.huffingtonpost.com/2008/04/30/
Tax Law Ignored By BlackWater
Dem: Blackwater Dodged Millions in Taxes
Tag this page!
Submitted by
SadInAmerica
on Wed, 04/30/2008 - 2:41pm.
1642 reads