Oil Giants Making HUGE Profits!
Submitted by SadInAmerica on Tue, 04/29/2008 - 9:09am.
Gordon Brown stepped into a growing row about oil company profits today calling on BP and Shell to spend more of their combined £7bn ($14 BILLION!) first-quarter earnings on activity in the North Sea.
The two companies have been gradually selling off assets in Britain with Shell recently unveiling 180 job cuts in Aberdeen but the prime minister said it was time to reverse this trend.
"We do need the oil coming out of the North Sea, we do need to encourage the new exploration. That is more expensive to do. That is why I hope that these profits are going to be invested in getting more oil out of the North Sea," he said.
Brown was speaking on GMTV after BP raised replacement cost profits by 50% to $6.6bn (£3.3bn) and Shell increased its by 12% to $7.8bn on the back of a near-doubling in the price of oil since last year.
Shell insisted that it was pumping out more oil and gas than ever and blamed financial speculators for driving crude up to nearly $120 per barrel.
Peter Voser, the company's financial director, said the weakness of the dollar, political pressures and investors switching from equities to commodites all affected the value of oil while there was "enough product and enough crude" on the ground.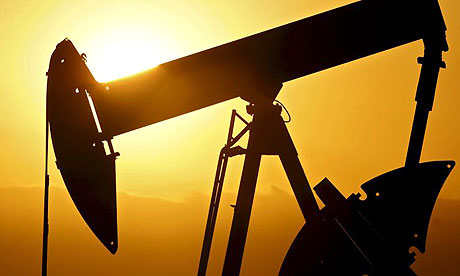 "We don't understand the oil price at this stage," argued Voser, saying that there was no immediate sign of a weakness in demand from the US economy slowing down. "All in all the fundamentals do not justify the oil price at this level," he added.
But Shell's profits - the equivalent of around £2m per hour - have infuriated the motorist lobby and trade unions.
Edmund King, president of the AA, said drivers would be shocked by the earnings at a time when they are struggling with high prices at the pump.
"The motorist feels somewhat battered from all sides, seeing the oil companies going off with cash in their pockets and the Treasury filling its coffers," he said.
"It's the ordinary motorist that's bearing the brunt of this while the oil companies and the government are laughing all the way to the bank."
He called on the oil companies to reinvest the windfall in drilling and refining, to increase the supply of oil and create downward pressure on petrol prices.
"They could also invest more in greener fuel, and the motorist would benefit in the long term," he said.
"We also believe that some garages have been profiteering out of the current situation." He cited one garage in Tunbridge Wells which he claimed had put up the price of diesel from 120.9p to 129.9p a litre in a week.
Graham Tran, regional officer of the Unite union, joined the attack on the oil industry: "These profits are a slap in the face for 180 staff at Shell who were told less than seven days ago that they face redundancy. Both Shell and BP have announced pension holidays for 2008 at a time when our members in Grangemouth are fighting to protect their pension fund."
But Richard Griffith, analyst at City brokerage, Evolution Securities, said that today's figures from BP showed that new chief executive Tony Hayward's turnaround plan was "bearing fruit" faster than expected.
"Q1 was not expected to deliver any great surprises as Q2 was meant to see the start of the transition towards better financial performance after the efforts of the last six months aimed at getting key projects on stream and improving operational performance. The consensus-thrashing Q1 results, clearly aided by high oil and gas prices, have nevertheless shown that the group's turnaround is well advanced," Griffith said.
The City cheered the performance, pushing Shell's shares 6.2% higher to £20.42 by 1.30pm. Shares in BP gained 5.8% to 612p.
Terry Mccalister and Graeme Wearden - April 29, 2008 - posted at www.guardian.co.uk/business/
Tag this page!
Submitted by
SadInAmerica
on Tue, 04/29/2008 - 9:09am.
1539 reads